OUR COMPANY
Medicover Genetics is part of Medicover, a leading international healthcare and diagnostic services provider headquartered in Sweden and listed on Nasdaq Stockholm. Established in 1995 in response to the growing demand for high-quality healthcare services in Poland, Medicover subsequently expanded to other countries, fulfilling similar needs. Today, Medicover's largest operations are in Poland, Germany, Romania India and Ukraine. Medicover provides a broad spectrum of healthcare services via an extensive network of ambulatory clinics, hospitals, specialty-care facilities, laboratories and blood-drawing points through two divisions – Diagnostic Services and Healthcare Services.
Diagnostic Services offers a broad range of diagnostic services including a wide range of laboratory tests in all major clinical pathology areas, ranging from routine to advanced tests and from prevention to monitoring of treatments. The business is conducted through a network of 99 laboratories, 852 blood-drawing points and 24 clinics in more than ten countries. The major markets are Germany, Ukraine, Romania and Poland.
Healthcare Services offers high-quality care based on its Integrated Healthcare Model and a broad offering of specialty-care services with a focus on health and wellbeing. Services are offered in 129 medical clinics, 32 hospitals, 64 dental clinics, 26 fertility clinics and 77 gyms. The major markets are Poland, India and Romania.

For more information, visit www.medicover.com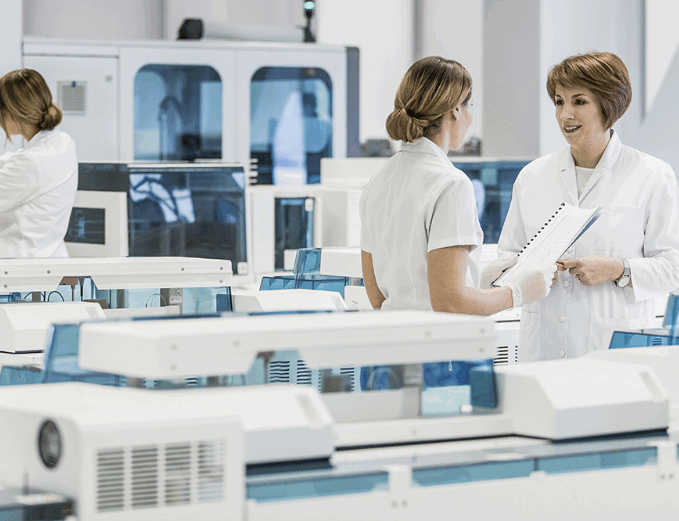 WHY US
Medicover Genetics is a network of laboratories and medical institutions that date back to 1998, with over 2 decades of expertise within genetic testing, and is a leader amongst health care professionals, especially in Germany. A clinical team comprised of scientists, physicians and medical geneticists, several with more than 20 years of experience in genetic testing, assuring that the tests are meaningful and comprehensive accompanied with accurate interpretation of sequencing results. Up-to-date diagnostic algorithms and gene panels based on current scientific literature and international guidelines are used. The sequencing facilities are constantly updated to the latest technology and laboratory methods which allows for short turnaround times. The company is assessed by several certified bodies, including EFI, DIN EN ISO 9001, DIN EN ISO15189 accreditation for medical laboratories, and a generally valid GMP (Good Medical Practice) certificate. Data privacy is taken very seriously, and genetic data is not used for any purpose besides what is stated in the informed consent form signed by the patient and physician.
OUR PORTFOLIO
Medicover Genetics offers an extensive genetic testing portfolio to help health care professionals identify the most appropriate genetic test for the patients. Too often genetic testing is considered only very late during a diagnostic journey, and the mission is to shorten this journey by creating opportunities for the physicians and patients to find the right information about genetic disorders, genetic testing and associated genes. Additionally, physicians and patients are accompanied throughout the genetic testing journey by offering medical counselling with ordered tests. It is important for the patient to understand the results of the test and it's also useful for the physician to discuss therapeutic options, preventative measures and monitoring procedures.
Spanning cytogenetic analyses, molecular pathology solutions, the latest in Next Generation Sequencing (NGS) technology and microbiome sequencing, Medicover Genetics offers a complete in-house and tailormade portfolio produced in our laboratories in Germany and offered internationally. Medicover is the sole testing site in Europe for Bionano's Saphyr® technology. The third-generation optical mapping solution aims to provide the missing information in genome research with rapid, high-throughput, long-range genome mapping and unmatched structural variation discovery capabilities. If proven successful, this technology will allow Medicover to resolve large-scale structural variations currently missed by NGS.
To operate smoothly on a global scale, while expanding the sample volume, an end-to-end clinical suite was implemented for a more robust diagnostics pipeline and a solution that could accommodate different geographic locations with one local installation. This makes NGS testing and variant discovery efficient, scalable, and accessible by converting NGS data into customised clinical reports in a timely manner.
OUR TEAM
CAREERS
We promise an exciting team that works towards empowering people to use comprehensive and meaningful genetic tests at the forefront of their diagnostic journey, fueled by our vision to place genetics at the core of medical decisions. We want to achieve this by leveraging advancements in genomics to develop relevant diagnostic solutions, supported by professional medical interpretation, to improve people's health and well-being.
Our genetic laboratories in Berlin and Munich, rely on the expertise of a highly motivated team of medical and scientific staff as well as the most modern methods of laboratory diagnostics for the diagnosis of hereditary conditions.
Our strategic product, marketing and sales teams work together to develop innovative products and bring them to patients and physicians across our medicover countries and beyond.
To strengthen our team and meet the demands arising from our growth, we invite talented and ambitious scientists, marketing and sales people to send their CV by clicking on the link below.
Send CV