Medicover Genetics and Medicover Diagnostics Finland are proud to announce the partnership with Fimlab Laboratories, to provide genetic testing services to patients residing in Finland.
With a legacy of over 25 years in genetic diagnostics, Medicover Genetics is committed to delivering the highest standards in genetic testing, leveraging the latest in sequencing technologies and expert medical and scientific validation.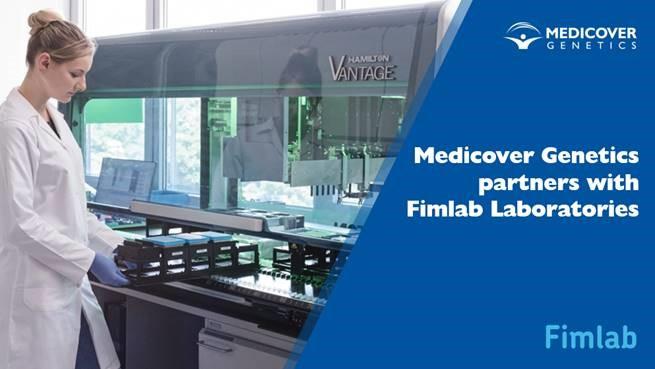 Fimlab Laboratories is the largest healthcare laboratory company that provides laboratory services, training and research for 5 major regions in Finland with more than 110 locations, 1200 laboratory professionals and with 17 million diagnostic tests performed annually. 
Following a competitive tender process, Medicover Genetics was selected by Fimlab Laboratories as the sole provider of subcontracted genetic testing services for hereditary conditions during a four-year partnership. The services provided include a customized and tailor-made portfolio that meet the unique needs of the Finnish diagnostic system ranging from single gene and gene panel testing to whole exome sequencing, which will complement Fimlab's own genetic testing portfolio.
The local entity in Finland, Medicover Diagnostics, has worked closely with Fimlab Laboratories and their clinicians to deliver a seamless and efficient operational process, allowing for genetic tests to be ordered with ease.
This partnership marks an important milestone for Medicover Genetics, as we continue to build strategic partnerships and expand our services into new geographies, in collaboration with reputable local partners.
About Medicover Genetics
Medicover Genetics is a leading healthcare company specialising in genetic medicine, with more than 25 years of experience. Medicover Genetics offers genetic testing services and counselling, proprietary CE-IVD marked solutions and a versatile Technology Transfer Platform. Active in over 30 countries across Europe, Asia, and Africa, we empower laboratories, healthcare professionals and patients to place genetics at the core of medical decisions. We are committed to providing actionable diagnostic solutions to improve prognosis, clinical management, and therapy selection for genetic disorders. Our CAP-accredited, CLIA-, GMP- and ISO9001, 15189, and 13485 certified laboratories ensure the highest quality standards. www.medicover-genetics.com
Medicover Genetics is part of Medicover, a leading international healthcare and diagnostic services company founded in 1995 and listed on Nasdaq Stockholm. www.medicover.com
About Fimlab
Fimlab laboratoriot Oy is Finland's largest laboratory company and producing healthcare laboratory services in Pirkanmaa, Kanta-Häme, Central Finland, Päijät-Häme and Ostrobothnia in over 110 locations with approximately 1200 professionals. Fimlab offers a wide range of laboratory services for clinical testing and medical research. These may include both routine analyses and tests requiring further research and development in clinical chemistry, haematology, microbiology, pathology and genetics. IVF laboratory, point-of-care test services as well as sample collection services are also part of Fimlab's service portfolio. Fimlab's clients are i.a. hospitals, healthcare centres, occupational health care, private medical centres and patients of private doctors.
Fimlab laboratoriot Oy is a testing laboratory accredited by FINAS accreditation service (accreditation symbol T043), accreditation requirements SFS-EN ISO/IEC 15189 :2013. https://fimlab.fi